In my last post, I provided a detailed financial analysis of what we could expect if we were to hold The Haggle House as a rental. In this post, I want to do a quick financial analysis of what our profits would look like if we were to rehab/flip it instead…
If you recall The Flip Formula that I often refer to, the formula for determining estimated profits on a flip would be (assuming I rearrange the formula correctly):
Profit = Sales Price – Purchase Price – Fixed Costs – Rehab Costs
We estimate that we should be able to sell this property for between $75,000 – $80,000.
Our Purchase Price on this property is $43,500.
Our Rehab Costs are estimated at $6,500.
Our Fixed Costs are along the lines of the following: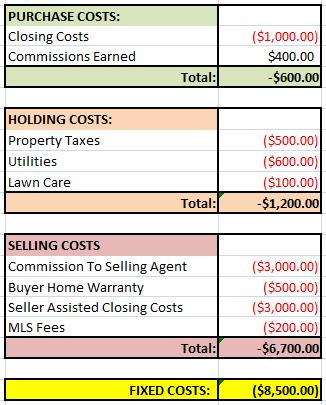 Our profit on a $75,000 sale would be:
Profit = $75,000 – $43,500 – $8,500 – $6,500 = $16,500
And our profit on an $80,000 sale would be:
Profit = $80,000 – $43,500 – $8,500 – $6,500 = $21,500
So, we could realistically expect profits in the $16-22K range…
That's pretty much what we'd expect from a property that requires very little work (about 3 days of rehab). If we could generate greater profits than that, it would probably be a slam dunk flip. And if we couldn't even generate that minimum profit, it would probably be a slam dunk rental. But, with profits in that range, it's actually a difficult decision…
I'll post some additional financial analysis in an upcoming post that will hopefully give a better perspective on flip vs rental, given the numbers we have so far…