We closed on the sale of The Probate House today…
Not only was this was quite an interesting project all-around, but it was the most profit we've made on any rehab to date (see financial breakdown below). While we originally found this property back in October (actually, we didn't find it, our awesome closing attorneys — and our good friends — did), we purchased this property in mid-January. We decided not to do a full rehab on this one for several reasons. First, we didn't know the area very well, so we didn't want to take a chance of over-rehabbing it or trying to compete with other retail listings that we weren't familiar with. Second, it has some very custom features — including tens of thousands of dollars worth of backyard landscaping — and we weren't positive which features our likely buyers would want to keep.
So, we decided to do all the basics — we remediated the existing mold, fixed some structural/framing issues, did some major waterproofing of the exterior, repaired the roof, replace a lot of bad siding, did some basic landscaping, painted the interior and exterior, replaced a number of light fixtures, and replaced much of the flooring. We had expected to spend about $35K on the rehab, but ultimately we were able to get the cost down to about $21K, as our existing contractors owed us some favors and some new contractors were looking to build a relationship with us.
We finished the rehab about 3 weeks after we took possession of the property, and had it under contract about 3 weeks after that. Because we had only held the property for 6 weeks and because the buyer was getting an FHA loan, this was our opportunity to test out the new FHA rules around having to hold the property for 90 days before selling. Ultimately, it was a crazy process — we had to have multiple appraisals, multiple inspections, provide all our rehab expenses (including invoices) to the underwriter, and just plain undergo a lot of scrutiny to get this deal closed.
The nice thing was that the buyer is a General Contractor (he owns a basement refinishing company), so he was perfectly comfortable with the areas of the house we hadn't rehabbed (outdated kitchen, outdated baths, old windows, and lots of landscaping work). He didn't ask for any repairs based on his inspection, and working with a buyer who knows construction made the whole process easy, as he recognized that the work we did was high quality and the work we didn't do was mostly cosmetic.
Here are more detailed breakdowns of our final schedules and financial results for this wholesale project…
Timelines
The total hold time on this house was 80 days. I'm thrilled that we now have a broker/lender that can get FHA loans done prior to 90 days, and we'll certainly use him again on future deals.
Here are the key timeline milestones:
Purchase Offer Date: 1/10/2010
Purchase Closing Date: 1/15/2010
Rehab Completion Date: 2/7/2010
Sale Listing Date: 2/8/2010
First Sale Contract Date: 2/27/2010
Final Sale Contract Date: 2/27/2010
Sale Closing Date: 4/5/2010
Financials
This property was located in a much nicer area of town than most of our rehabs. We purchased the house through a probate sale (again, thanks to our awesome friends/attorneys) for $70K, put in about $21K in rehab, and sold for about $145K. Average comps in this neighborhood were in the upper-$100K range, so we sold for well below market, which was a win/win for both us and our buyer.
Here is the breakdown of financials for this project: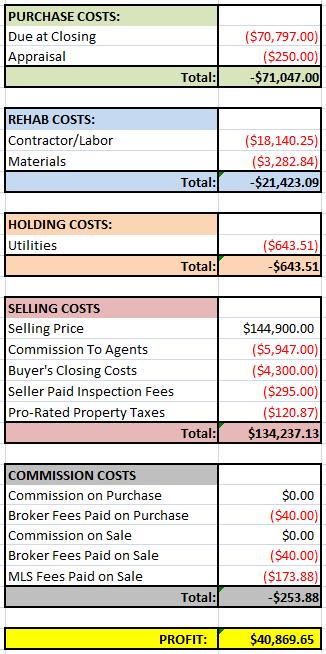 Our ROI on this project was about 44% and our annualized ROI was just over 200%.
Final Statistics
Here are just some of the final statistics that I've been tracking for all my projects, and that summarize the success/failure of each project pretty well:
From Offer to Purchase Time: 5 Days
Rehab Time: 20 Days
Selling Days on Market: 19 Days
Selling Close Time: 37 Days
Total Hold Time (Close to Close): 80 Days
Total Profit: $40,869.65
Return on Investment (ROI): 43.87%
Annualized ROI: 200.17%