After closing on the sale of The Poor House two days ago, today we closed on the sale of The Neighbor House…you can see the detailed financial results below…
This was supposed to be a quick wholesale deal to another investor (i.e., no rehab work on our part), but it ultimately took nearly two months. We found buyers for the property relatively quickly (two investors looking to try their first flip), but they had some issues with their financing. Their first loan fell apart due to some issues with the way their broker was charging fees, and their second loan dragged out for several weeks before they realized there was an issue. It turns out that they had applied for a non-owner-occupant investor loan, which is essentially a loan for a rental property. Given this was a flip project, the lender wasn't happy about the fact that the house needed so many repairs, and the loan pretty much stalled.
Earlier this week, the investors decided to pay cash instead of trying to get the loan, and we closed this afternoon.
Had I known they were attempting to get a "rental property" loan, I would have advised them several weeks ago to go the cash route…trying to get typical investor loans for flip properties is always a long and difficult process. The worst part is that due to the long delay waiting for their financing, the buyers have pushed out starting the rehab, and have likely pushed the listing of the property out to near the end of the tax credit period (April 30), which will make it much harder to sell the property. I hope that's not the case, but certainly come May 1, it's going to be tougher to find buyers.
Here are more detailed breakdowns of our final schedules and financial results for this wholesale project…
Timelines
The total holding time on this house was 53 days. Had the buyers paid cash upfront instead of trying to get financing, it would have been closer to 20 days, which is what I originally had expected. It was a good lesson learned about ensuring wholesale buyers have their financing in order.
Here are the key timeline milestones:
Purchase Offer Date: 12/19/2009
Purchase Closing Date: 1/25/2010
Rehab Completion Date: 1/25/2010
Sale Listing Date: 1/26/2010
First Sale Contract Date: 2/16/2010
Final Sale Contract Date: 2/16/2010
Sale Closing Date: 3/19/2010
Financials
This was a pretty standard wholesale deal in terms of profit for us, though as mentioned above, it took longer than expected to complete the deal.
Here is the breakdown of financials for this project: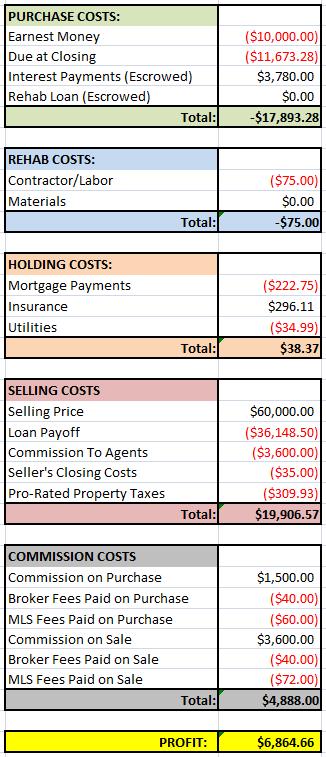 Our ROI on this project was 41% and our annualized ROI was about 286%.
Final Statistics
Here are just some of the final statistics that I've been tracking for all my projects, and that summarize the success/failure of each project pretty well:
From Offer to Purchase Time: 46 Days
Rehab Time: 0 Days
Selling Days on Market: 21 Days
Selling Close Time: 31 Days
Total Hold Time (Close to Close): 53 Days
Total Profit: $6,864.66
Return on Investment (ROI): 41.53%
Annualized ROI: 286.00%