We closed on the sale of The Poor House today…you can see the detailed schedule and financial results below…
For a large rehab, this project was pretty textbook; we completely replaced the exterior (new roof, gutters, siding, trim, soffit, fascia, decks, etc), remediated a good bit of mold, waterproofed the foundation, finished the basement, and did a full cosmetic rehab on the rest of the interior — all in about 7 weeks. Had we not gotten so much rain at the beginning of the project, it likely would have been finished in under 6 weeks, which is pretty amazing for a gut rehab like this.
I don't think I ever nailed down a specific budget on this one here on the blog (other than saying "between $45-55K"), but we came in right about where I expected after adding a few upgrades (large front and back decks, basement closet, new windows) that I hadn't planned. In total, we spent just over $53K, with $45K going to labor and $8K going to materials.
As I've mentioned before, I'm thrilled with how this house turned out. It's not surprising that we received a quick full-price offer after we put it on the market, and it's not surprising that we received another near-full-price offer shortly after the first contract fell through. This second buyer (and agent) was a pleasure to work with, as the entire process went smoothly and stayed on track from beginning to end.
We almost had some appraisal issues down the stretch, but the mortgage broker did her job well, and we closed on schedule. Here are more detailed breakdowns of our final schedules and financial results…
Timelines
The total holding time on this house was 172 days. It would have been exactly 100 days had the original contract gone through, but considering we essentially completed two separate sales, I guess this isn't too bad (okay, perhaps I'm rationalizing a bit :)).
Here are the key timeline milestones:
Purchase Offer Date: 8/25/2009
Purchase Closing Date: 9/24/2009
Rehab Completion Date: 11/18/2009
Sale Listing Date: 11/23/2009
First Sale Contract Date: 12/8/2009
Final Sale Contract Date: 2/15/2010
Sale Closing Date: 3/15/2010
The final contract closed in exactly 4 weeks, which isn't too bad given it was an FHA buyer.
Financials
This was a pretty textbook rehab for us in terms of financial forecasts and results. We were right on track with our projected budget, and our sale price was right about where we expected it to be. At the beginning of the project, I was expecting a $30K profit if everything went as planned, and we exceeded that by just a bit.
Here is the breakdown of financials for this project: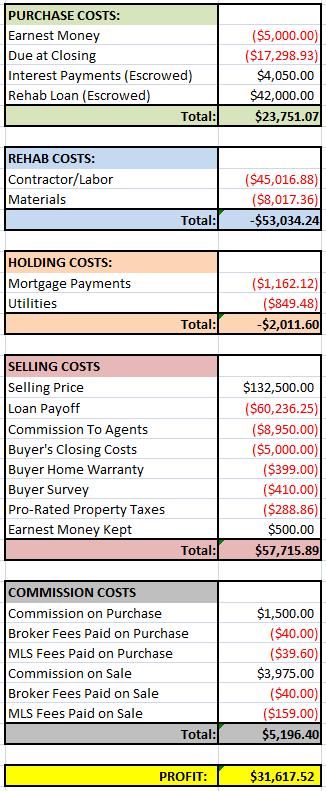 There will be a few more small transactions before the numbers are finalized — insurance overpayment refund, final utility bills, etc — but I expect that we'll be within $100 one way or the other of this final profit amount.
Our ROI on this project was 105% (we invested just under $30K of our own cash in the deal), and our annualized ROI was about 224%. Not bad, even considering our relatively long hold-time.
Final Statistics
Here are just some of the final statistics that I've been tracking for all my projects, and that summarize the success/failure of each project pretty well:
From Offer to Purchase Time: 30 Days
Rehab Time: 54 Days
Selling Days on Market: 84 Days
Selling Close Time: 28 Days
Total Hold Time (Close to Close): 172 Days
Total Profit: $31,617.52
Return on Investment (ROI): 105.83%
Annualized ROI: 224.59%