We closed on the sale of The Mini House today…
I'd like to say this was a fun project, but after dealing with four different buyers over the past six months, I'm pretty sick of having to deal with or think about this house.
I take full responsibility for this one not closing back in September — had I attended the appraisal for the first contract we had, I most likely could have gotten the appraisal value to the $85K range, as opposed to $65K, which sunk the deal. While it was unlikely we could have ever gotten an appraisal for the original offer price ($99,000), we have since gotten three appraisals in the $85-88K range, and we would have been happy to take that price several months ago.
Also, the appraisals on this property have been much harder since September, when major flooding hit the area, and essentially wiped out 90% of the homes in this subdivision. We were lucky that our survived completely intact, and that future potential buyers weren't put off by the neighborhood damage.
Here are all the relevant statistics and financial breakdown for this one…
Timelines
The total holding time on this house was a crazy 220 days. It was the second-longest it's taken us to sell a house, and again made even more disappointing by the fact that we should have been able to sell it at around the 100-day mark.
Here are the key timeline milestones:
Purchase Offer Date: 5/29/2009
Purchase Closing Date: 6/30/2009
Rehab Completion Date: 7/20/2009
Sale Listing Date: 7/21/2009
First Sale Contract Date: 8/10/2009
Final Sale Contract Date: 1/21/2010
Sale Closing Date: 2/5/2010
The bright side of this whole deal was that the closing time for the contract that finally went through was only 15 days…and this was an FHA buyer! I wish all our buyers could close that quickly…
Financials
From the beginning, we had expected this to be a minor rehab, and were hoping to make a quick $15K return. In the end, it was a minor rehab. But that's where our correct assumptions ended. We didn't make our $15K return (only about $12,600). And, there was nothing quick about the sale process. In fact, we were fixing minor issues (like a broken thermostat) up until the past 48 hours.
Here is the breakdown of financials for this project: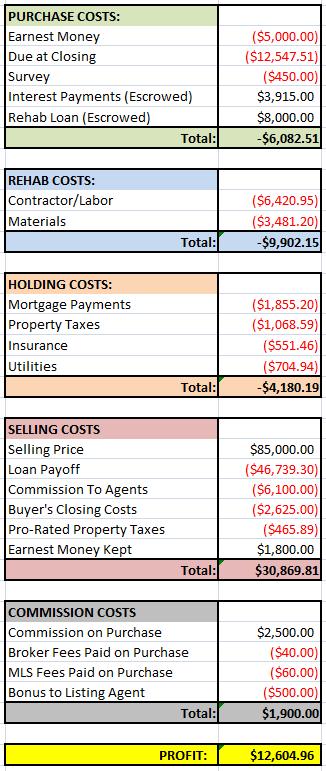 There will be a few more small transactions before the numbers are finalized — insurance overpayment refund, final utility bills, etc — but I expect that we'll be within $100 one way or the other of this final profit amount.
Our ROI on this project was 82% (we only invested about $15K of our own cash in the deal), and our annualized ROI was about 136%. Not bad, even for the long hold-time we've had.
Final Statistics
Here are just some of the final statistics that I've been tracking for all my projects, and that summarize the success/failure of each project pretty well:
From Offer to Purchase Time: 32 Days
Rehab Time: 20 Days
Selling Days on Market: 184 Days
Selling Close Time: 15 Days
Total Hold Time (Close to Close): 220 Days
Total Profit: $12,604.96
Return on Investment (ROI): 82.20%
Annualized ROI: 136.37%