Another quick Final Analysis post, as it's for The Deja Duplex, a property we held for less than a week and only visited two times…
I would consider this to be our first real wholesale deal, and while it would have been nicer to have just done a double-close (meaning we sell it the same day we bought it), holding it for a week in-between was really no big deal. The financial breakdown is below, but we essentially made $5K for about 2 hours work, which is by-far the best percentage return (even if it is was the smallest real return) we've seen on a property yet.
Anyway, here is the run-down of the project results, with the final set of statistics at the bottom…
Timelines
Here are the key timeline milestones:
Purchase Offer Date: 5/15/2009
Purchase Closing Date: 6/11/2009
Rehab Completion Date: N/A (No Rehab)
Sale Listing Date: 6/11/2009
Sale Contract Date: 6/11/2009
Sale Closing Date: 6/18/2009
Had we bothered to pick up the phone and call the buyer before we closed on the purchase of the property, could have bought and sold it the same day, and saved ourselves some time and effort. Live and learn…
Financials
We bought the property for $24,000. We sold the property for $28,600. And between the purchase and sale, the only costs we incurred were the purchase closing costs, cost to cut the lawn (we scheduled this prior to putting it under contract), commission on the sale (we worked with another agent), and a few dollars in property taxes.
Here is the breakdown of financials for this project: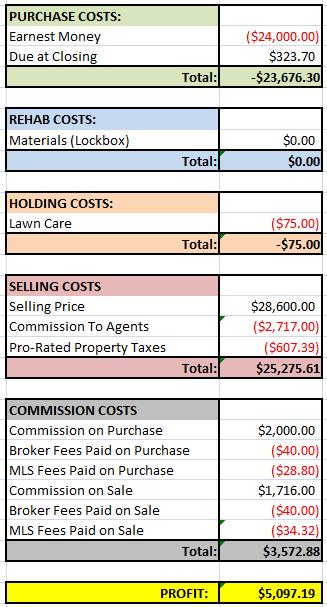 In terms of purely financial ROI, my total investment into this property was $21,820.10; this puts my ROI at over 23%, and adjusted for the very brief time we held the property, my annualized ROI is well over 1200%.
Final Statistics
Here are just some of the final statistics that I've been tracking for all my projects, and that summarize the success/failure of each project pretty well:
From Offer to Purchase Time: 27 Days
Rehab Time: 0 Days
Selling Days on Market: 0 Days
Selling Close Time: 7 Days
Total Hold Time (Close to Close): 7 Days
Total Profit: $5,097.19
Return on Investment (ROI): 23.36%
Annualized ROI: 1218.06%