Now that The Corn House is officially on the market, I did my final accounting to determine how much I've spent to both purchase and rehab this property. My original budget for this project project was $30K, plus 10% for "surprises," for a total budget of $33K. Additionally, my goal was to keep total costs (Purchase Costs, Rehab Costs, and Holding Costs) under $100K for the entire project, until sale.
Here is the current breakdown of costs, as they stand today: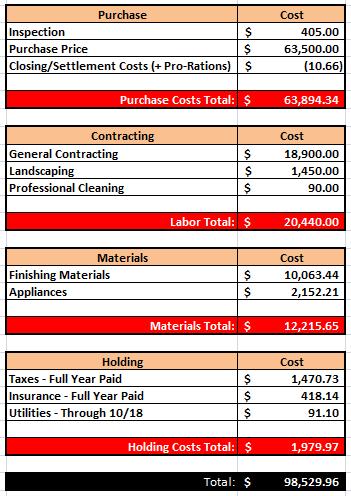 Of course, I haven't yet sold the property, so it's likely that I'll see additional holding costs, and maybe even additional rehab costs, depending on the demands of the buyer. That said, I don't have mortgage on the property (I paid cash), and the Holding Cost numbers above include a full year of property taxes and insurance, of which I'll likely be getting at least 50% back (hopefully it won't take more than a few months to sell). So, when all is said and done, I actually expect my true Holding Costs to be less than the $1979 indicated above.
All-in-all, my total rehab costs came out to $32,655.65, about $350 under budget! And assuming I don't have to spend more than $1400 in additional costs during my holding period, I'll easily achieve my goal of keeping total costs below $100K.
I didn't do as well with the schedule on this one, coming in about three weeks over schedule on a five week project. I'll have more to say about that in a future post on "lessons learned."
My real estate agent has listed this property for $124,900, which I think is a bit low, but given how well she's done for us until now, we're going to trust her judgment on this one, and hope for a sale near full-price. Even near full-price, this will cut my profit a bit lower than what I would like, but I've always known that this first deal was a bit thin, and my ultimate goal was to just make a profit and get my feet wet. Unless something catastrophic happens, I should definitely achieve that goal of profitability, and much more.
I'll go into more detail on my likely profit once I have this property under contract; my agent suggests that it could be up to 120 days to sell this one, so I'm not getting too excited just yet.